Brian Cox has brought astronomy to a new audience with his books and TV shows in recent years. Now there's an iPad app for that too, combining content from both areas.
The app is called Brian Cox's Wonders of the Universe, and it's the work of book publisher HarperCollins' Collins imprint, which struck a deal with the BBC to include footage from Cox's TV shows Wonders of the Solar System and Wonders of the Universe.
Developed by digital agency The Other Media, and draws on the full text and photos used in HarperCollins' official tie-in books for those series, as well as infographics and 3D models of planets, moons and galaxies.
"We've set a new frontier for digital publishing by positioning Brian's written narrative and related BBC video content in a bespoke 3D environment which changes dynamically as you journey deeper and deeper into the realms of the Universe," says Alex Gatrell, Collins' digital publisher.
That whizzy 3D environment comes at a price: the app only works on Apple's iPad 2 and new (third) iPad, with the original model not quite having the processing grunt to cope with it.
Launching at a promotional £4.99 price, the app is very impressive, from pinching to zoom in on the universe through to its core user interface of scrolling down a single column of text, with photos, videos and interactivity appearing as you go.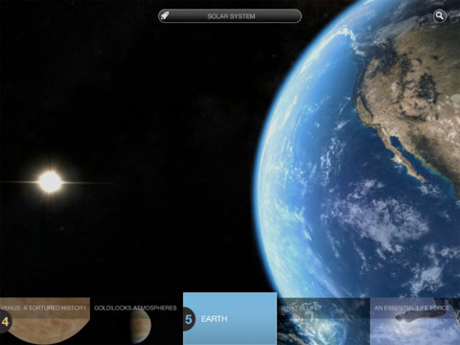 "We threw out conventional thinking on multimedia experiences to instead come up with a revolutionary platform that can take complex narratives but deliver them with an intuitive clarity," says The Other Media's managing director George Crabb.
Wonders of the Universe is the latest sign that popular science may be the most suitable book category – along with children's picture-books – for a multimedia app treatment on tablets.
It's also interesting for that partnership between Collins and the BBC. At a time when every media and creative industry is getting excited about apps, you can imagine conflicts emerging if the various players in a big TV/books/etc project all want to make an official app.
Partnerships make more sense. In fact, this app has echoes of what another book publisher, Faber, did with its iPad app for The Waste Land. That involved a partnership with the BBC Arena programme for video interviews of experts talking about T.S. Eliot's poem.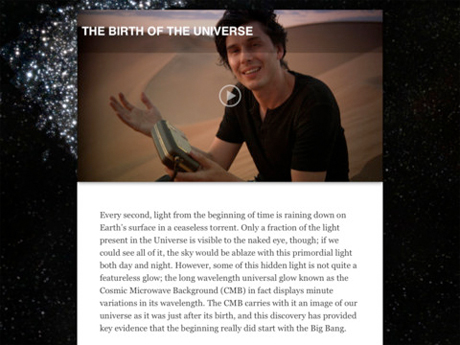 The interactive aspects in the Wonders of the Universe app are also important to differentiate it from a standard e-book. Since the launch of its iBooks 2.0 application, Apple is strongly encouraging publishers making static book-app with a bit of multimedia content to release them as iBooks rather than apps.
3D engines, pinchy universes and interfaces that move away from the idea of page-turns all firmly remain in the apps sphere, though.
Collins will be hoping that Brian Cox's drawing power will make the new app a commercial success on the App Store, following in the footsteps of Touch Press' The Elements and Solar System for iPad, and Random House / Transworld Digital's The Magic of Reality.
The latter, based on a book by Richard Dawkins, sold 23k copies in its first few months on the App Store with a £9.99 price, generating just under £230k of gross revenues before Apple's 30% cut.
In December 2011, Touch Press told The Guardian that it had sold more than 250k copies of The Elements on iOS, bringing in more than $2m of revenues for the company.
Faber has never revealed actual sales figures for The Waste Land, but did say that it recouped its development costs within its first six weeks on the App Store.
The Brian Cox app's £4.99 "promotional launch price" is made for popular appeal, although it's not yet clear when Collins will raise it, and to what price point.